A young lady has caused a stir after she turned down her boyfriend's proposal in an embarrassing way in public.
In a trending video, the lover boy first presented his girlfriend with a bouquet of flowers, which she accepted with a smile on her face.
However, things took a different turn when he got down on one knee, brought a ring, and asked her to marry him.
As if the ring triggered her, she immediately got upset, threw the flowers away, and walked out on him.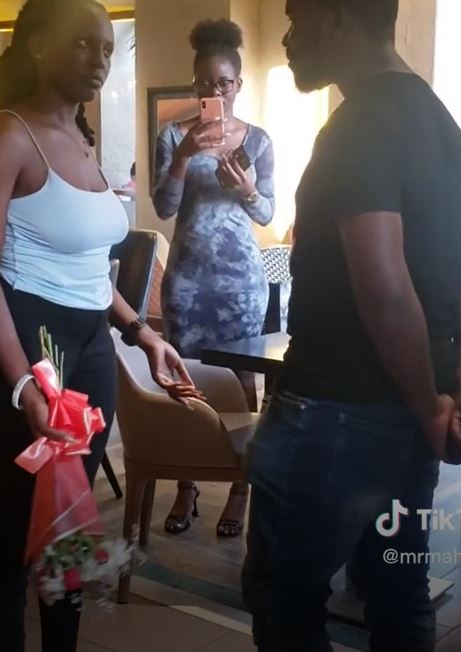 Watch video below,
In related news, in a rather dramatic turn of events, a Nigerian lady reportedly rejected the expensive gifts she received from a man on Valentine's day.
A video circulating online shows the moment the lady angrily turned down the gifts after being told who sent them.
The surprise company contracted by the sender had paid the lady a visit, and first gave her a gift box containing a luxury wristwatch.
She was then led outside the compound to see a brand new Range Rover sent by her admirer, which was decorated with red ribbons. She also received a bouquet of newly designed N500 naira notes as a gift.
However, things took a different turn when the identity of the anonymous sender was revealed. When she heard the name, the lady became enraged and stomped away, leaving everyone confused.
For Your || Post on this Blog || RwGTv Event Red-carpet || RwGTv Interview || Music Promo || Music Distribution || Event Hype || Advert Placement || Video Coverage || Graphics Design || Delivery Service @Confamdelivery || Social Media Branding and Ads || Brand Promtion Call or Whatsapp +2348182764115 - Follow @Resolutionwall @RwGTelevision